In life sometimes you come across a situation where your vehicle gets stuck or you have to move to another place. It could be anything such as a simple job relocation. In those circumstances, you may have to move your entire life to the place you are moving, including your automobile. At this time towing or auto-transporting would be the two best options for you.
However, some people confuse these two terms as one when they are not. Towing and auto transport are two different services used for different purposes. If you are also confused about those people who mix towing with transporting, then this blog can help you learn the difference between the two. In this article, we will have a look at what is towing and transporting, what is the benefit of each one, and when these two are used. Also, we will discuss which towing company you can contact for vehicle transport or towing services.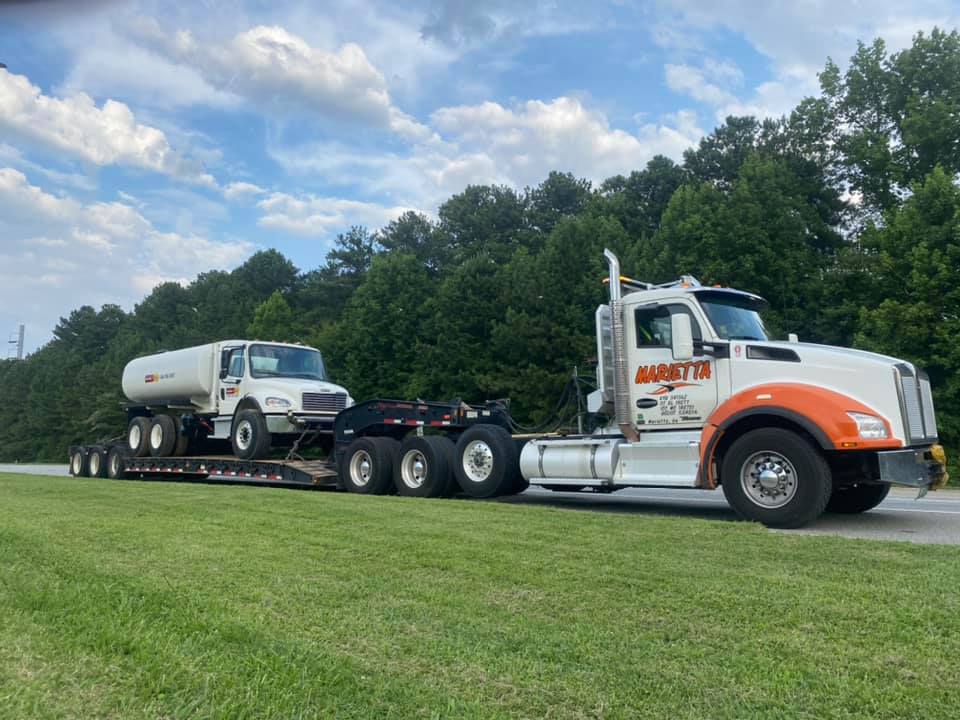 What is Meant by Towing?
Towing basically means a towing company pulls your automobile behind a tow truck. A towing company, like Marietta Wrecker Service, offers services 24 hours a day, 7 days a week to needing customers. Towing companies are your best options if you are in a hurry and wish to take your vehicle somewhere close. Some companies may charge extra as compared to a transport service because they offer immediate services any time you need them. So be sure to ask and know what you will be charged for before the towing company arrives.
The Advantages of Hiring a Towing Company
Immediate Service – As we have mentioned earlier a towing company operates 24 hours 7 days a week. They respond to you any time you contact them. They can come on the same day you book them.
Flexible Booking – A towing company can be booked on the same day you need them. On the other hand, you are required to book a transport service in advance. Thus towing is a more flexible option for those with shorter and more immediate needs.
When to Contact a Towing Company?
You might be wondering when you should ask for help with a towing service. When you need immediate services for short distances you can tow your car. It would be worth the money you spend if you are in an emergency or broke down on the side of a highway.
What is Auto Transporting or Hauling?
Auto transporting, car hauling, and car shipping are different names for one service. Transporting a vehicle means a truck carries a vehicle and takes it where it needs to be. This is usually done when a vehicle needs to move long distances. The majority of these services require booking in advance.
Benefits of Transporting Vehicles
No Extra Effort – With a vehicle transporting company, all the hassle and headache is handled. Simply have the company come pick up the automobile and then meet them at the location where they drop it off. No more worrying about driving and handling your vehicle during transport.
Save Money – Transporting a vehicle can be cheaper than depending on the distance traveled. You can haul your car or stuff at cost-effective rates and save a lot of money. Be sure to talk with the towing company ahead of time to know the rates you will be paying so there are no surprises.
When to Haul Your Vehicle?
Now some may be confused about when they should transport or ship your vehicle. The simple answer to this question is when you are moving long distances and want your car to be safe and sound. Simply book a transportation company at cost-effective rates and rest assured that it will be delivered safely.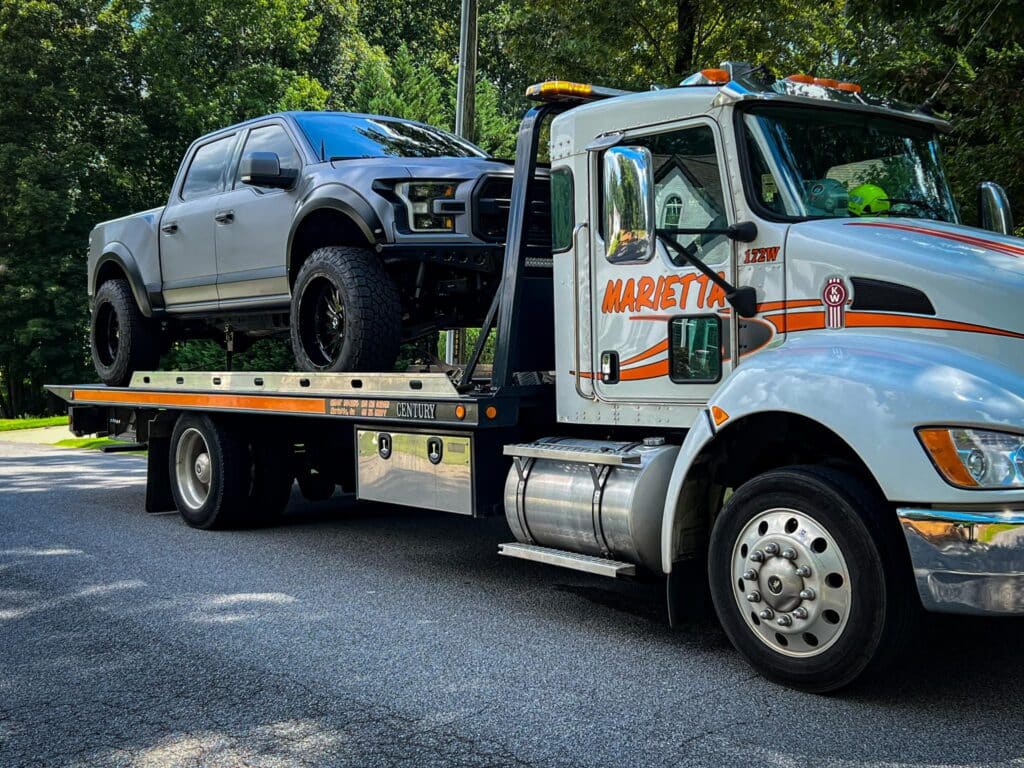 Light Duty Towing Services
Marietta Wrecker provides light duty towing services to its customers 24/7. We are just a call away and offer help to cars and motorcycles stuck in different situations as in circumstances where your tires get flat or your battery dies or the vehicle gets involved in an accident. Light Duty Service Covers:
Accidents
Breakdowns
Exotic cars
Motorcycles
Parking Garages
Dealership
Heavy Duty Towing
Marietta Wrecker Service has a large fleet that allows us to tow heavy trucks and machinery without any damage. We handle vehicles through the latest and best techniques and equipment which enables us to work effectively. Our operators have deep knowledge of the subject and can move your vehicles to both local and long distances efficiently. Heavy Duty Includes:
Tractors and trailers
Motor Homes
Bob Tails
Buses
Dump trucks
Cranes
Straight trucks
Garbage Trucks
Heavy Equipment Transport
Marietta Wrecker understands how important it is to fulfill the trust of our clients. That is why we offer heavy equipment transport over long distances in a safe way. We provide a variety of services in this regard such as the following:
Loaders
Backhoe
Bull Dozers
Motor Scrappers
Concrete Mixers
Heavy Duty pumps
Tankers
Dumpers
Conveyors & More
If you need more information about our services, be sure to visit our website for more information or give us a call today!
Looking For A Towing Company? Call Us Today!
Many people mix the different terms of towing and transporting. These are two distinguished services used for different purposes. Contact Marietta Wrecker, today to learn more about pricing and availability for towing or hauling services. We look forward to hearing from you!