No one ever plans a breakdown. The majority of the time a vehicle breaks down, it is at the most inconvenient time for the driver. We understand that nobody really wants to call a tow company unless it's absolutely necessary. As experts in auto maintenance and repair, we're here to help. While some problems simply can't be fixed on the side of the road, sometimes you can work out a solution so long as you're equipped with the right gear. There are some items that you should simply never go without. Here Marietta Wrecker details the essential items you should have in your vehicle in case of a breakdown.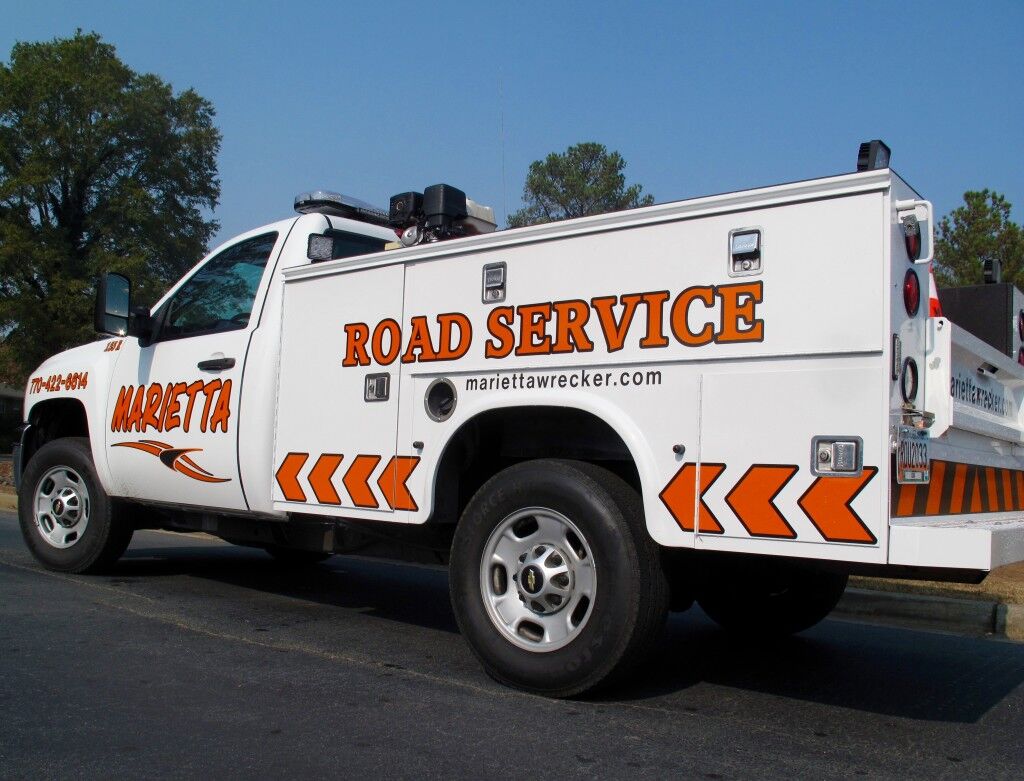 Essentials To Have
A TIRE CHANGING KIT
One of the most common breakdowns is a flat tire. The majority of newer vehicles have tire-changing tools already included. These tools include a spare tire, a car jack, and a lug wrench. With these essential tools, you should have everything you need to swap out a tire. If your vehicle is used make sure that these tools are available in case of emergency.
JUMPER CABLES
A dead battery is also one of the more common car problems drivers experience. If you are unable to jump your dead car then you are pretty much out of luck. One essential thing to have in your car is jumper cables. This can help in getting you back on the road sooner. Once you flag someone down for a jump, use your jumper cables to get your car back up and running. Once your engine turns over, make sure to pump the gas a few times and keep your engine running to charge up your battery. Jumper cables are inexpensive and can be found at the majority of automotive stores.
TIRE SEALANT
While majority of vehicle owners only have a tire changing kit, it doesn't hurt to have tire sealant in your car as well. For the most part, your spare tire is reserved for emergencies. If it's just a small leak, some sealants might be enough to take care of the problem until you can reach a tire center.
A FIRST-AID KIT
A first-aid kit is an essential accessory that no car should go without. In a situation where you're stranded, it can tend to any minor injuries. But it also just makes sense to have in a car. Suppose you get in a wreck or you spin off the road from hydro-planing. With a first-aid kid on hand, you may be able to treat smaller injuries that require medical attention.
EMERGENCY WATER & SNACKS
If you ever have been stuck outside in Georgia during the summer months, you know it can get very hot. With that being said, in the case of a vehicle break down it's a good idea to keep water and nonperishable snacks on hand. You never know how long it could take for assistance. Having water and snacks on hand can keep you from getting dehydrated or hungry while waiting for roadside assistance. Pro Tip: make sure your water is stored in a container that can withstand the Georgia heat.
TOOLSET
While you don't need a giant tool chest in your car, it's good to be stocked with the essentials. A ratchet set is indispensable, but it also won't hurt to have a screwdriver and adjustable wrench.
A LIGHT
In the event that your car does break down somewhere, the last thing you want to die on you is your phone — and you can bet that you're going to lose battery a lot quicker if you're constantly using it as a flashlight to look under your hood. The first thing you should do when you're stranded is calling for help. It's important to seek the assistance of professionals like Marietta Wrecker who can provide roadside assistance. Don't waste your phone battery as a light, because if your phone dies, your situation becomes much more difficult. A light is essential is keeping you safe and findable in case you're stuck on a non-lite road.
Need Roadside Assistance?
Our 24/7 emergency roadside assistance is there quickly to help resolve your car emergency. Marietta Wrecker Emergency Roadside Assistance will rapidly dispatch a towing professional to your location around the Marietta and metro Atlanta area as quickly as possible to help resolve your roadside emergency. We are quick to respond, and our auto towing and car lockout services are set up to get your problem resolved in no time.
With Marietta Wrecker, you will never be stranded on the side of the road or busy highway. Call today for emergency roadside assistance from the professionals in Marietta and Atlanta.