Atlanta is experiencing one of its wettest winters in history. Rainfall is at an all time high and that means dangerous conditions for our busy streets and highways. Driving with safety in mind during rain will help keep you and the people around you safe while minimizing accidents and fender-benders.
Over a ten year average, rain and wet pavement accounted for 25% of all accidents on US roadways. That adds up to nearly 900,000 crashes due to wet pavement and 600,000 crashes due to rain.
Use these 5 tips to avoid harmful accidents to you and your family and costly damages to your vehicle when it is wet and rainy on the road.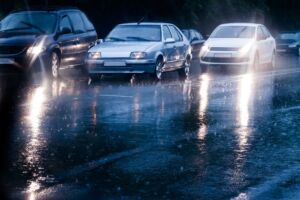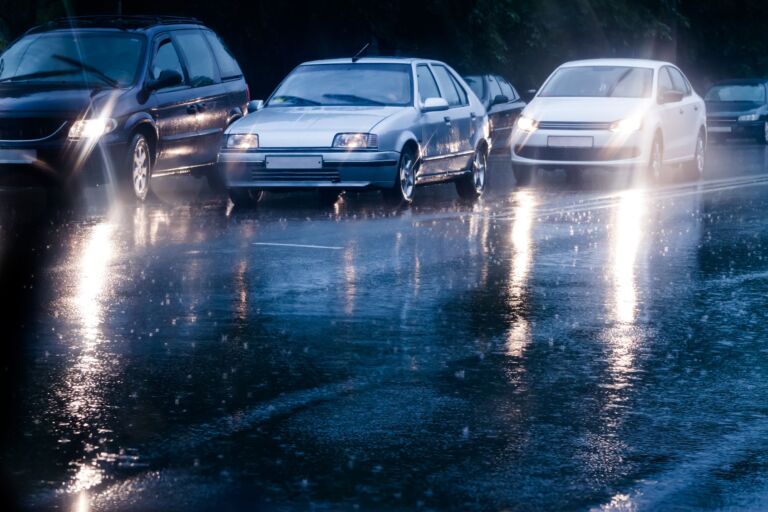 #1 Be especially cautious at the beginning of the rainfall
Atlanta streets and highways are being constantly traveled. When the roads are dry, oil and grease from cars and trucks builds up on the pavement. As soon as the first drops of rain hit the streets, the water mixes with the hot grease and oil to form a very slick and hazardous surface. The first few hours of rainfall on busy streets can be the most challenging and you need to be extra careful when driving in these conditions.
#2 Avoid cruise control
Cruise control is a very handy feature now available in most modern cars and trucks. For long stretches on the highway where maintained speeds can be achieved, cruise control can cut back on gas and save time. But in rainy conditions, you need to be close to your gas and brake pedals at all times. Cruise control can cause hydroplaning and hinder you in sudden braking if needed.
#3 Use your headlights
Many cars today have DRL or daytime running lights equipped in the car. But many cars do not and when the rain comes the sky usually gets dark from cloud cover. Be sure to activate your headlights when it is raining.
#4 Use your brakes earlier and much slower
During rain fall driving gets much more difficult. Your vehicle needs more time and more room to slow down or stop. Anticipate these slow-downs and use your brakes far earlier than you would in dry conditions. Do not slam on your brakes on wet roadways. Use gentle braking and allow yourself time to avoid hitting the vehicle in front of you.
#5 Most importantly, SLOW DOWN!
When driving in rainy and wet conditions, the best form of defense is to simply slow down. Preplan your route and give yourself more time for the travel. Cut your speed down and take your time. Driving within a safe and monitored speed during rain can decrease your chances of an accident and harmful outcome.
If you are in an accident due to rain or wet conditions and need roadside assistance or a tow, Marietta Wrecker Service is here to help.
Emergency Roadside Assistance and Towing in Metro Atlanta
Marietta Wrecker Service provides quick and reliable 24/7 towing services for disabled vehicles or motorcycles due to breakdowns, accidents, or vehicle transporting.
Marietta Wrecker Service's Light Duty Towing Services Cover the Following Areas:
Accidents
Breakdowns
Dealerships
Parking Garages
Exotic Cars
Motorcycles
Car Lockout Service
Tire Change
Dead Battery
Jump Starts
This may involve recovering an automobile damaged in an accident, returning one to a drivable surface in a mishap or inclement weather, or towing or transporting one via flatbed to a repair shop or other location.
If you need a tow truck service in Marietta or the surrounding metro Atlanta area, call Marietta Wrecker Service at (770) 767-0569 or contact us online here.