Do you know what occupation has the highest number of fatalities per year? Truck drivers.
According to a Newsweek Report, almost a thousand truck drivers lose their lives to work-related deaths each year. Moreover, winter weather plays a part in 40% of the accidents that occur during the winter months. The winter months are when motor vehicle travel is at its peak. Our roads and freeways are congested with shipping trucks, delivery trucks, and thousands of motorists traveling, shopping, and trying to take care of last-minute to-dos.
Keeping safe on the busy roadways starts with planning ahead, keen driving, and explicit observation.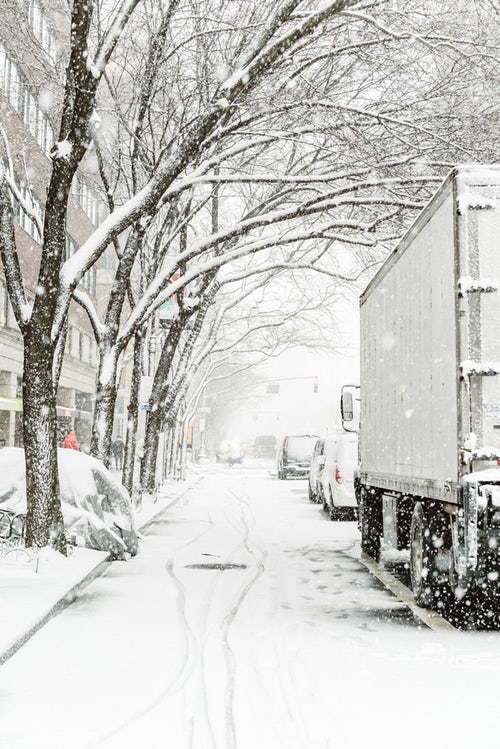 Here are 5 Winter Weather Driving Tips for Truck Drivers to help you get to your destination safe and sound.
#1- Get Prepared
Before you even turn the engine on, make sure you have the proper supplies in case of an accident or weather related stall. These simple items can be the difference between life or death.

Make sure to keep these items in your truck this winter:
Extra clothing

Gloves

Flashlight & head lamp

Rain gear

Windshield washer fluid

Heavy blankets

Rock salt/deicer

Snow tire chains

Jumper cables

Snow scrapers and brushes
#2- SLOW DOWN!
We all want to get to where we are going fast and without wasting time. But slowing down and taking your time is crucial in maintaining a safe travel. Hydroplaning in wet and icy conditions can occur at anytime over 35 mph. Keeping your vehicle at a slower than normal pace will eliminate deadly outcomes from the roads. Stay under 35 mph in wet and slushy conditions to avoid the possibility of hazardous hydroplaning.
#3- Keep A Safe Distance
Make sure your follow-behind distance has a lot of wiggle room and space. Sudden problems from surrounding vehicles can cause a chain reaction and pile-up that you do not want to be involved in. Keeping a safe and monitored distance between you and the vehicle in front of you will leave plenty of reaction time for unexpected and sudden incidents should they occur.
#4- Watch for Black Ice and Bridges
Black ice is the invisible roadway killer.
How does black ice form?
Black ice forms after light rain falls when the temperature of the road surface is below 32 degrees.
Bridges and overpasses are the most susceptible to black ice due to the elevated nature of the concrete and asphalt which is constantly exposed to the winter elements. Black ice is nearly impossible to see, and your best defense is a slow, careful path over any and all bridges and overpass junctions during icy winter nights.
#5- Brake Slowly
Heavy truck rigs loaded with goods and commodities are hard to stop and slow down. Slamming on the brakes even with ABS brake functions can cause immediate fish-tailing and loss of control of the vehicle. Pump the brakes lightly and repeatedly to build a slow stop. In conjunction with slow speeds, and a safe maintained distance, braking slowly and abruptly can save you and others around you from harm.
#6- Shut Down & Take a Break
There is no shame in shutting down your truck and taking a break during blizzards, ice storms, and freezing rains. Your destination will always be there in the morning and keeping fellow travelers and yourself safe is the number one priority.
If You Need Your Truck Towed, Call Marietta Wrecker for Heavy Duty Towing this Winter
Marietta Wrecker Service has the technicians and equipment to get you out of any weather related jam, no matter how big your rig. If your semi truck breaks down this winter and you need heavy duty towing for your semi truck, call Marietta Wrecker Service at (770) 767-0540 or contact us online here.
In addition to providing heavy duty towing services, Marietta Wrecker Service also offers recovery services that include rollovers, load shifts/transfers, winch outs, decking, and undecking. We offer a full line of support equipment ready to assist in any situation resulting from an accident or overturn truck.