The American Cancer Society estimates for ovarian cancer in the United States for 2016 are:
About 22,280 women will receive a new diagnosis of ovarian cancer.
About 14,240 women will die from ovarian cancer.
Ovarian cancer ranks fifth in cancer deaths among women, accounting for more deaths than any other cancer of the female reproductive system. A woman's risk of getting ovarian cancer during her lifetime is about 1 in 75. Her lifetime chance of dying from ovarian cancer is about 1 in 100.
During a planning session in the fall of 2015, Marietta Wrecker Service decided that one of the goals for 2016 was to give back to the community in a unique way. MWS wanted to reach a group of people and support the Georgia Ovarian Cancer Alliance (GOCA) which is a non-profit organization. Ovarian Cancer is close to our hearts because someone we love passed away from Ovarian Cancer in December of 2001. Ovarian cancer is also often overlooked so Marietta Wrecker will be supporting the GOCA by promoting awareness with this tow truck which has special graphics, by donating to the cause, and by giving away gift bags to help spread awareness.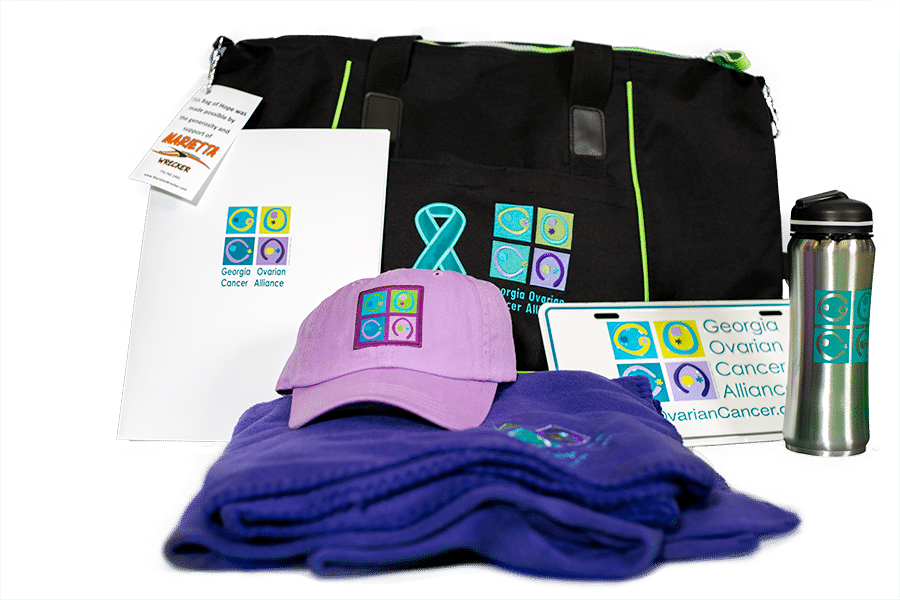 Steve Welchel, co-owner of MWS watched his wife's mother Ana Virginia Castro Jenkins go through her fight against Ovarian Cancer. The Company decided to dedicate a truck in honor of Ana and to help spread awareness throughout the community.
On March 24, 2016, MWS held a Truck Dedication event that revealed the new Ovarian Cancer Awareness truck. Steve surprised his wife, Emilia Welchel by letting her think that the company was shooting a commercial. During the opening of the ceremony Steve said a few words:
"Thank you for all being with us today as we have this celebration. Today marks a special day for Marietta Wrecker Service. Something that affects all of our lives in one way or another is Cancer. The American Cancer Society estimates that in 2016 more than 22,000 new cases of Ovarian Cancer will be diagnosed and over 14,000 women will die in the US. Mortality rates for Ovarian Cancer have declined only slightly in the 40 years since the "war on Cancer" was declared. Other cancers have shown a much greater reduction in mortality due to the availability of early detection test and improved treatments.
MWS is taking a stance in the fight against Ovarian Cancer. Our hope is that we can raise awareness and make a difference. Ovarian Cancer took the life of someone we love and because of that we wanted to honor her memory in a very special way. On December 29, 2001, my wife lost her mother to Ovarian Cancer. Today we dedicate truck 149 in honor of Ana Virginia Castro Jenkins."
The driver of our Ovarian Cancer Awareness truck wears a TEAL uniform every day and gives out information as well as awareness bracelets in an effort to spread awareness and educate people on this silent killer. Every Tuesday is celebrated company wide as TEAL TUESDAY. Everyone on our team has a TEAL TUESDAY t shirt that says "I wear TEAL for the warriors, survivors and the departed." Our Facebook page dedicates every Tuesday to Ovarian Cancer Awareness to help educate and spread awareness.
MWS feels so passionately about the cause that we felt we needed to do more and make a bigger impact. The natural thing was to partner with GOCA, Georgia Ovarian Cancer Alliance. Together we can make a bigger difference. If you are interested in helping out and donating to an excellent cause, you can do so by clicking the button below.
| | |
| --- | --- |
| | The MWS Management team is excited to have recently met with Doug Barron, Executive Director for GOCA, to decide how our partnership can educate more people and spread even more awareness. Heather Welchel-Edens, Director of Sales and Marketing at MWS is working closely with GOCA on a plan of action moving forward. |