Have you ever thought about buying vehicles at auto auctions? Most people don't think about this option, but for those who do, they're often surprised at what they come to find. The number one reason comes down to price. You can get a car, truck or motorcycle at auto auctions for a great, low price. Most people have found that typical auto auction prices are a fraction of what they would pay at a conventional car dealership.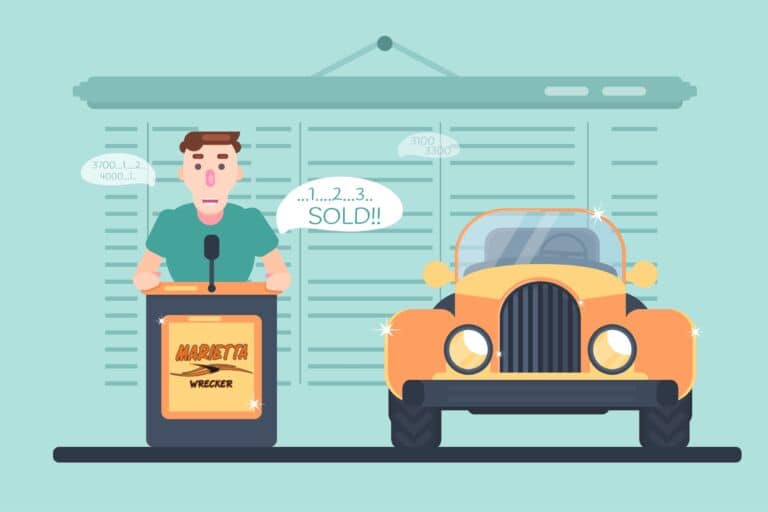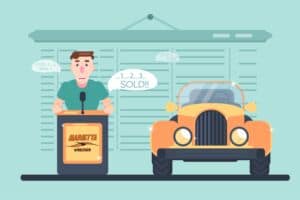 There are several auto auctions around Georgia, with most of them being around metro Atlanta. While they are open to licensed car dealers and the public, these auctions are better suited for those that already have some knowledge about cars. The type of cars offered are abandoned vehicles, repossessions, etc. Some may have been wrecked, but this will NOT be disclosed during the auction. Some may be late models in decent shape, while others will be obvious to why the automobile was left at the tow yard to begin with. Most of these tow auctions in Georgia do not charge a fee to attend the auction. However, expect to pay a fee in addition to the price of the car if you change the information on the Bill of Sale after the paperwork is completed.
NEXT AUTO AUCTION
Marietta Wrecker hosts a monthly auto auction open to the public where you can buy used motorcycles, cars, and trucks. The next auction will be held Thursday, September 10th, 2020 at 11:00AM. Vehicles can be previewed on Wednesday, September 9th from 8:00am – 6:00pm. See list of vehicles below!
| ID# | Vehicle | Color | VIN# | | |
| --- | --- | --- | --- | --- | --- |
| 1 | 1994 NISSAN MAXIMA | BLACK | JN1HJ01F3RT238913 | | |
| 2 | 2013 CHRYSLER 200 LX | SILVER | 1C3CCBAB8DN641460 | | |
| 3 | 2012 CHEVROLET CAMARO LT | SILVER | 2G1FB1E36C9175868 | | |
| 4 | 1974 DODGE RAM 100 | BLUE | D14AB4S120079 | | |
| 5 | 2009 DODGE CHALLENGER | RED | 2B3LJ44V59H620909 | | |
| 6 | 1995 DODGE RAM VAN B2500 | WHITE | 2B7HB21Z2SK514147 | | |
| 7 | 1998 ACURA 2.3 CL | BLACK | 19UYA3240WL008626 | | |
| 8 | 2007 CHEVROLET SILVERADO | BLUE | 1GCEC19V67Z140416 | | |
| 9 | 2012 CHEVROLET IMPALA | BLACK | 2G1WG5E34C1327895 | | |
| 10 | 2015 BMW X3 S DRIVE | BLACK | 5UXWZ7C57F0M83140 | | |
| 11 | 2017 GMC SIERRA C2500 | WHITE | 1GD01REG4HZ292665 | | |
| 12 | 2006 FORD ESCAPE XLT | GRAY | 1FMYU03136KD18764 | | |
| 13 | 2010 GMC ACADIA | SILVER | 1GKLRNED5AJ226885 | | |
| 14 | 2007 FORD MUSTANG | BLUE | 1ZVFT82H675244054 | | |
| 15 | 2010 DODGE CALIBER SXT | SILVER | 1B3CB4HA9AD618649 | | |
| 16 | 2001 FORD WINDSTAR LX | BROWN | 2FMZA51421BA97264 | | |
| 17 | 2007 CHEVROLET HHR LT | TEAL | 3GNDA23D97S612622 | | |
| 18 | 2003 FORD TAURUS | SILVER | 1FAFP55S73A166162 | | |
| 19 | 2001 MITSUBISHIT ECLIPES | RED | 4A3AE85HX1E172220 | | |
| 20 | 2006 NISSAN MURANO | WHITE | JN8AZ08T46W429340 | | |
| 21 | 2006 FORD ESCAPE XLT | GRAY | 1FMYU03106KA99178 | | |
| 22 | 2003 NISSAN ALTIMA | GOLD | 1N4AL11D03C131599 | | |
| 23 | 2010 MAZDA RX-8 | RED | JM1FE1C42A0403771 | | |
| 24 | 2006 MERCEDES S CLASS | SILVER | WDBRF52H26E019651 | | |
| 25 | 2012 HYUNDAI ELANTRA | SILVER | KMHDH4AE6CU353475 | | |
| 26 | 2004 TOYOTA CAMRY | TAN | 4T1BE32K54U873327 | | |
| 27 | 2008 HONDA CIVIC LX | BLACK | 2HGFA165X8H315509 | | |
| 28 | 2003 CHEVROLET TAHOE | BEIGE | 1GNEC13Z43R161973 | | |
| 29 | 2005 HONDA ODYSSEY | SILVER | 5FNRL386X5B424027 | | |
| 30 | 2005 INFINITI QX56 | BLACK | 5N3AA08A05N807081 | | |
| 31 | 2014 KIA OPTIMA | MAROON | 5XXGM4A70EG331690 | | |
| 32 | 1986 MAZDA B2000 | BROWN | JM2UF111XG0580019 | | |
| 33 | 2009 DODGE JOURNEY | BLUE | 3D4GG57V19T181850 | | |
| 34 | 2003 VW JETTA | WHITE | 3VWRK69M23M133724 | | |
| 35 | 1993 BUICK PARK AVE | GOLD | 1G4CW53L6P1619071 | | |
| 36 | 2004 JEEP LIBERTY LIMITED | RED | 1J8GK58K54W131285 | | |
| 37 | 2007 FORD TAURUS SEL | BEIGE | 1FAFP56U37A174586 | | |
| 38 | 2000 HONDA CIVIC LX | TAN | 1HGEJ6676YL048205 | | |
| 39 | 2003 DODGE GRAN CARAVAN | GOLD | 2D4GP74L83R102067 | | |
| 40 | 2001 HONDA CH80 | GREEN | 3H1HF03081D600448 | | |
| 41 | 2009 HONDA NPS50 | RED | JH2AF58069K604942 | | |
| 42 | 1990 HONDA CB125TT | BLUE | JH2JC0638LK000311 | | |
| 43 | 2019 YONGFU YN50QT-8 | ORANGE | LL0TCAPH2KY121158 | | |
| 44 | 1988 GMC C600 | WHITE | 1GDE6D1B8JV506056 | | |
| 45 | 2008 HINO 268 | WHITE | 5PVNJ8JV282S51257 | | |