OUR EXPERT
TOWING SERVICES
TOWING & RECOVERY
We provide light duty and heavy duty towing services for disabled vehicles or motorcycles due to breakdowns, accidents, or vehicle transport. We offer a wide range of towing services for motorists, including light-duty towing, car towing, motorcycle towing, vehicle transportation, and 24/7 emergency roadside assistance.
SERVICES INCLUDE
---
EQUIPMENT TRANSPORT
Our heavy duty machinery and equipment transport services provide equipment towing for any size and scope. Long haul towing of heavy duty equipment and tools are handled safely and responsibly by our towing professionals. We understand that dependability is crucial when transporting any size equipment or tool.
SERVICES INCLUDE
---
MOBILE DIESEL REPAIR
We offer 24/7, full mobile roadside service for our commercial trucking clients. Our team of experienced mechanics gets the job done right the first time to reduce downtime and get you back on the road.
PRIVATE PROPERTY TOWING
Do you need an unauthorized or abandoned vehicle removed from your property? Marietta Wrecker specializes in prompt vehicle towing and removal to assure the safety and accessibility of your business.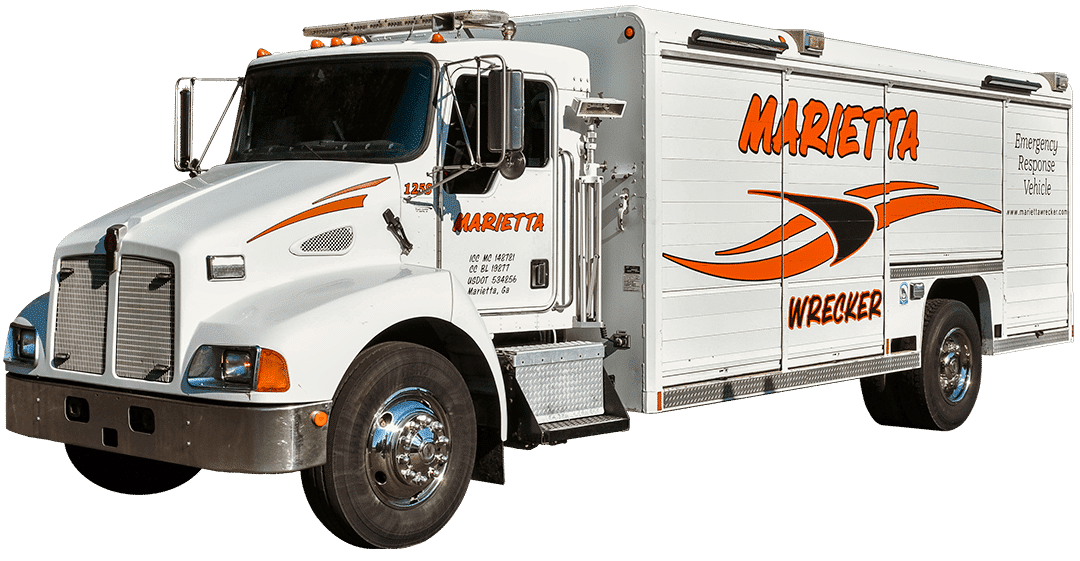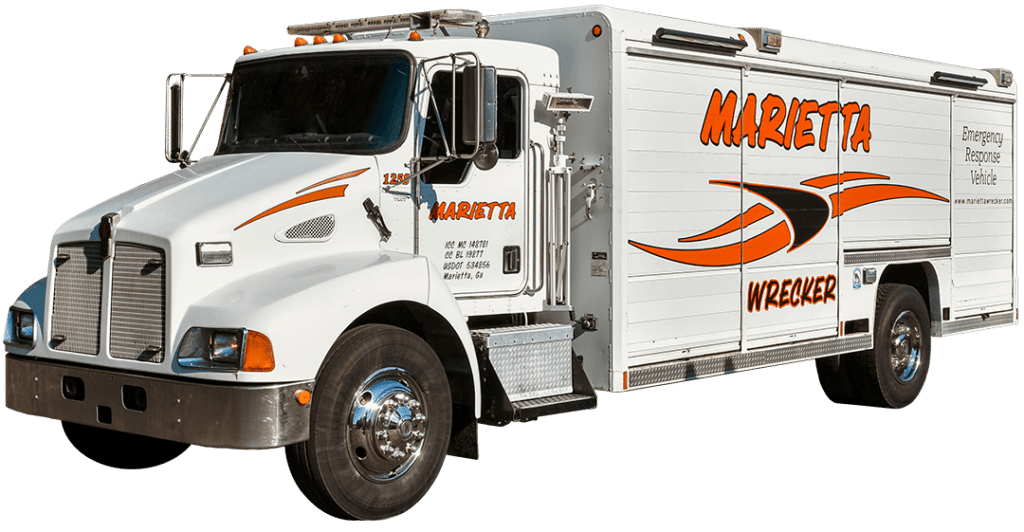 Choose a tow company
YOU CAN TRUST
"OUTSTANDING Service today from Marietta Wrecker Service. Diana in dispatch kept me updated on my driver's arrival the entire time. When Cal (my driver) arrived, he took every precaution to keep my motorcycle safe and secure. I met him at the dealership and he even helped me push my ride up the service ramp to get it into the shop. I'd call on Marietta Wrecker Service again when I really need professional towing service."
"We called Marietta Wrecker Service after our insurance company failed to find someone to tow my husband's truck and trailer. They were courteous, timely and professional. Definitely recommend!"
"PROFESSIONAL is the word that comes to mind. I called 6 other towing companies before Marietta Wrecker. Three companies didn't answer the phone at all, and the other 3 were too busy to send someone that day. Marietta Wrecker answered the phone, got my information, gave me a quote, and had an appointment set all in less than 5 minutes. Nick the wrecker operator was even better. He showed up a few minutes early and was able to winch out my non-running car with no problem, even though it was partially blocked by a truck. Professional!"
"This company is great. I was from out of state and involved in a major car pile up on the interstate. Literally dazed and confused totally lost on the side of the highway, the state trooper, who was so nice, said 'I'll get our go to wrecker. They will take care of you better and faster than what you may get else where.' Marietta wrecker showed up before my Lincoln concierge could get any other company to commit. Brad, their driver, is fantastic! He went out of his way to help us including me with my disabilities. They were very helpful and offered us good advice. Yes its true the people of Georgia are great."
"We had a bobcat stuck in the muck right on the edge of falling in a pool. Total setup to be a YouTube video. Marietta Wrecker service came in and saved the day without any CYA (we had 3 Other services decline to help). If they can save us, imagine how easy it will be for them to tow your car?"