As the largest unincorporated community in Metro Atlanta, the city of Mableton is well-known for its foundation on an old railroad route and its quaint community garden space. Over 39,000 residents call Mableton home, and Mableton's residents and business owners can rely on Marietta Wrecker Service for all their towing needs, including car towing, light duty towing, commercial towing services, mobile maintenance, heavy duty towing, trailer shifts, or private trespass.
Mableton Towing Services include
Car towing
Light duty towing
Emergency roadside assistance, including lockout service, tire change, and jump starts
Commercial Towing and Mobile Maintenance in Mableton
Marietta Wrecker Service provides outstanding and reliable commercial towing in Mableton, including equipment transport and multi-vehicle transport. We provide professional maintenance and emergency repair to your commercial vehicle. Our fleet of trucks helps get your commercial vehicles back on the road or to the shop in no time. Our goal is to minimize impact to your operation in Mableton.
Private Trespass Towing in Mableton
Marietta Wrecker Service provides private trespass towing in Mableton. We tow vehicles that are improperly parked or trespassing on private property in Mableton, at the request of the property owner or the authorized agent, absent of prior consent or authorization of the owner or operator of the vehicle. If there is a vehicle improperly or illegally parked on your private property in Mableton, call Marietta Wrecker Service at (770) 765-1941.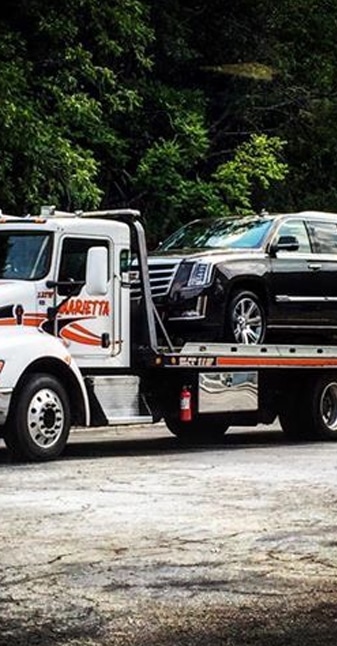 Do you need a Mableton towing service or emergency roadside assistance?
If you are faced with a roadside emergency in Mableton, such as a flat tire, lockout, jump start, or need a tow truck, call Marietta Wrecker Service to provide you roadside assistance in any situation or vehicle emergency.