Kennesaw Towing Service & Roadside Assistance
Originally inhabited by Native American tribes, the historically beautiful city of Kennesaw was named after the Battle of Kennesaw Mountain during the American Civil War. Home to well-respected Kennesaw State University, Kennesaw is an Atlanta suburb widely regarded for its rolling hills, wildlife, and small-town communities with a quick commute into the city.
KENNESAW COMMERCIAL TOWING & MOBILE MAINTENANCE
Marietta Wrecker Service provides outstanding and reliable commercial towing to Kennesaw's business owners. Our commercial towing in Kennesaw includes equipment towing, rollovers, winch outs, pull starts, load shifts, trailer shifts, equipment transport, and multi-vehicle transport. Our goal is to minimize the impact on your operation and get you back on track as quickly as possible. We provide professional and affordable maintenance and emergency repair to your Kennesaw commercial vehicle.
KENNESAW PRIVATE TRESPASS TOWING
Illegally parked vehicle on private property in Kennesaw? We tow vehicles that are improperly parked or trespassing on private property in Kennesaw, at the request of the property owner or the authorized agent, absent of prior consent or authorization of the owner or operator of the vehicle. If a vehicle is improperly or illegally parked on your private property in Kennesaw, call Marietta Wrecker Service at (770) 765-1941.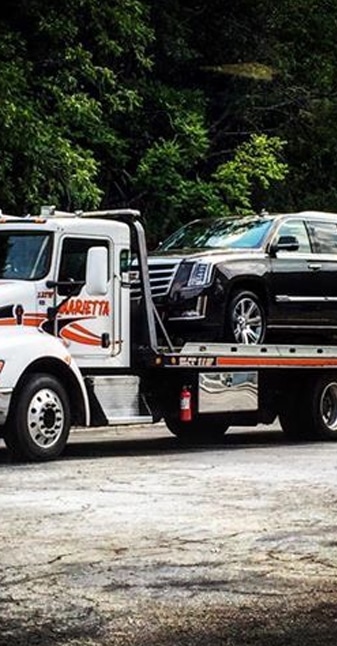 NEED KENNESAW TOWING SERVICE OR EMERGENCY ROADSIDE ASSISTANCE?
Kennesaw's community can rely on Marietta Wrecker Service for all their towing needs, including car towing, light duty towing, commercial towing, mobile maintenance, heavy duty towing, trailer shifts, and private trespass towing. If you are faced with a roadside emergency in Kennesaw, call Marietta Wrecker Service right away to provide quick roadside assistance in any situation or vehicle emergency.